Bursky Locksmith - Fast 24 Hour

Say hello to the most reliable Boston locksmith company.
At Bursky Locksmith our reputation of being the most dependable lock and key service provider speaks on its own.
With over a decade in the business, we are proud to be the ones Boston residents turn to in time of need.
Our technicians arrive at your location with a fully loaded van, ready to serve you quickly and efficiently.
From the minute you call, we are on the move with a rapid 20-minute response time – our Boston technicians want you to get on with your day as soon as possible.
Bursky Locksmith — #1 Speedy Service in Boston
Bursky Locksmith – Your Reliable Partner for Professional Locksmith Services in Boston, MA. Whether you're facing a car key emergency, a home lockout, or a security issue at your business, we've got you covered.
Our 24 hour service means we're always ready to respond, no matter the time of day or night. Our team of certified locksmiths are dedicated to providing the best auto, residential, and commercial services in Boston. Don't let a lockout keep you stranded – call us now for fast and reliable assistance. With Bursky Locksmith, you can trust that your emergency is our top priority, and we won't rest until you're back to your normal routine.
Your Car Locksmith in Boston, MA
Unleash the power of mobility with Bursky Locksmith- the ultimate car locksmith in Boston, MA. Say farewell to frustrating lockouts and lost keys and hello to effortless, on-the-go freedom. Our comprehensive range of automotive services are designed to get you back on the road with lightning speed, no matter what unexpected twists and turns life throws your way. From lightning-fast lockout responses to precision key replacements, our experts possess the knowledge and tools to effortlessly unlock your vehicle's full potential. Trust in the experience and reliability of Bursky Locksmith, and rediscover the joy of the open road.
Your 24-Hour Emergency Locksmith
When the unexpected strikes, it can feel like you're all alone. But, don't worry! We're here to be your knights in shining armor during an emergency lockout. With just one call, you can let out a deep sigh of relief and trust that you're in good hands. Our team of professionals is dedicated to providing you with quick and reliable service. So, don't hesitate – call us now and let us be there for you.
Stuck outside your vehicle and in need of a 24-hour emergency locksmith? Look no further.
Our 24 hour emergency service is here to help you with any type of car, at any time of the day or night. Our fast response time means we'll be by your side in no time, ensuring you're back on the road quickly. In case of any lock or key emergency at home, your car, or your business, simply call our 24 hour hot line in Boston for immediate assistance.
Your #1 Choice in Residential Service
We take pride in offering the finest residential services in Boston, MA. When it comes to home lockouts, we are your go-to solution. Our expert team also provides rekey lock assistance as needed. Our top-notch residential door lock services are unmatched.
Locksmith Boston is happy to provide residential services for all types of hardware installations and repairs to get you feeling secure in your home.
Your #1 Choice in Commercial Service
For your commercial locksmith needs, call us. In the event of a building lockout, day or night, we'll come to your rescue. Protect your business with our services. In Boston, our experienced locksmiths are equipped to handle all of your commercial lock needs. Whether you need new door locks installed, security upgrades, or duplicated building keys, we've got you covered. Our reputation for delivering the best commercial service to our clients is well established.
SERVING AREA WITH IN 20 MIN :
Company Name:
Bursky Locksmith
Description:
Bursky Locksmith Boston provides residential, commercial, automotive and emergency locksmith services in Boston, MA. Fast 24 hour locksmiths.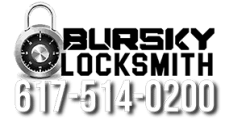 Phone:
(617) 514-0200