Bursky Locksmith - Fast 24 Hour

Say hello to the most reliable Boston locksmith company.
At Bursky Locksmith our reputation of being the most dependable lock and key service provider speaks on its own.
With over a decade in the business, we are proud to be the ones Boston residents turn to in time of need.
Our technicians arrive at your location with a fully loaded van, ready to serve you quickly and efficiently.
From the minute you call, we are on the move with a rapid 20-minute response time – our Boston technicians want you to get on with your day as soon as possible.
Bursky Locksmith — #1 Speedy Service in Boston
No matter what the needs for professional service around Boston, MA, call Bursky Locksmith — fast 24-hour service to get the job done fast.
No matter the time, day or night, we have everyone's needs completely covered.
We are your top choice in all of Boston for auto, residential and commercial services. Car key trouble? Don't wait. Call our 24-hour locksmith service now and a certified pro from our automotive department will be dispatched in record time to help you out of a jam. Need assistance in the middle of the night? No problem. We are a 24-hour locksmith service that recognizes any emergency to be of importance and doesn't rest until you are taken care of.
Your Car Locksmith in Boston, MA
We are your car locksmith Boston shop, and we're proud to offer a wide range of automotive services for those unexpected moments and life changes. We respond quickly to vehicle lockouts, so don't hesitate to call us when you find yourself in a jam. We will get you back on the road quickly and can make you replacement car keys in record time. Whether you need a new ignition key, a new transponder key, or a new key fob, our Boston, MA company is your one stop car expert shop. Call us the next time you are locked out or need a new copy vehicle key.
Your 24-Hour Emergency Locksmith
Emergencies happen. And they usually don't happen at the best times. When the unexpected occurs, you need to rely on professionals you can trust. That's where we come in. If you are experiencing an emergency lockout, call us now and breathe a sigh of relief. We are here to help.
Are you locked out of your car?
Do you need a 24-hour emergency locksmith? Don't wait any longer. We are your 24-hour emergency service for all types of cars that never sleeps. We'll be at your side real fast to see you on your way. Whatever lock or key situation arises at home, your car or your business, call our 24-hour emergency Boston hot line for speedy assistance.
Your #1 Choice in Residential Service
We are proud to offer the best residential services throughout Boston, MA.
We are your first call in the event of a home lockout and provide re-key lock assistance when needed. Our residential services for door locks are top of the line.
Locksmith Boston is happy to provide residential services for all types of hardware installations and repairs to get you feeling secure in your home.
Your #1 Choice in Commercial Service
Call us for any and all your commercial locksmith service needs. We will come and rescue you day or night in the case of a building lockout. Make sure your business is protected. Locksmith Boston installs commercial door locks, provide the strongest security lock options for upgrades and can copy building keys. We are well-known for offering nothing but the best commercial service to our clients.
Posts By Bursky Locksmith
Boston Locksmith - Call If You Are In The City
Are you in Boston, MA, and you can't find a good Boston locksmith that can help you? If you are looking for a Boston locksmith store, we are perfect for you. Bursky Locksmith will help you with any problem that you might be having. It doesn't matter if you want us to help with a lockout situation or make key replacements; we'll do it. It makes us a great locksmith to call for any situation. So, if you are in this city and looking for a Boston locksmith, call us.
Bursky Boston Locksmith - Better Than The Competition
If you want to know which is the best locksmith store in Boston, MA, we can help you. There are many good locksmiths in this city, but none compares to Bursky Boston locksmith. We can assure you that Bursky Boston locksmith is the best. No other store will give you the quality in service that Bursky Boston can. If you don't know which locksmith store you should call, we are the obvious choice. If you call any store other than Bursky Boston locksmith, we can assure you that you will regret it.
Boston Locksmith MA - Repair Your Lock
Are you in need of a Boston locksmith MA that can repair any lock for you? One of the most common things that can happen to you is having a broken lock in Boston, MA. However, you have nothing to worry about. Our Boston locksmith MA, at Bursky Locksmith, will help you in the best way. We will be capable of repairing any lock for you. That makes us a great Boston locksmith MA option if you have these types of problems. So, call us if you want to repair your lock perfectly.
Read More Boston Emergency Locksmith – Get More Information Here
Are you wondering where you can read more Boston emergency locksmiths? It is not easy to find a lot of information about those Boston, MA stores. Luckily for you, you can read more Boston emergency locksmiths on our website. We have a great website that you can go to if you want to read more Boston emergency locksmith. In Bursky Locksmith, we believe that everybody has the right to know more about us. That's why you will find all of the information you need to know about us on our website.
Fast Boston Locks Change - An Easy Job For Us
Do you want a store that can make fast Boston locks change without complications? There are many stores that will take a lot of time to change locks in Boston, MA. However, if you call Bursky Locksmith, we will make fast Boston locks change. Our locksmiths are in constant training. They will know precisely how to help you with this issue. Unlike many other stores, we are fast doesn't mean we won't provide high quality. So, call us if you want perfect fast Boston locks to change for your house.
Boston Emergency Locksmith - IF You Are In A Hurry
Do you have an emergency, and you are unsure where to find a good locksmith? Not finding a perfect Boston emergency locksmith fast can be very stressful. However, you have nothing to worry about; we are the best Boston emergency locksmith you will find. If you are in Boston, MA, we are the best choice for you. It doesn't matter what kind of emergency you are having; we can always solve it immediately. That makes Bursky Locksmith the perfect store if you need a Boston emergency locksmith. So, contact us!
Locksmith Boston - We Use High-Quality Materials
When looking for a locksmith Boston, one of the most important things is the materials they use. If a Boston, MA, company doesn't use high-quality materials, it is not worth it. There are many locksmith Boston stores that won't care about the materials they are using. As a result, their repairs will break in a short amount of time. Nevertheless, at Bursky Locksmith, we will always use the best materials in our locksmith Boston. The fact that we use the best materials and have the best professionals shows you how good we are.
24 Hour Locksmith Boston - Help At Night Too
One of the most complicated things for you is finding a locksmith store open at night. The majority of stores in Boston, MA, are not 24 hour locksmith Boston. As a result of this, they won't help you at night. Luckily for you, Bursky Locksmith is a great 24 hour locksmith Boston. As a matter of fact, we will help you even if you are having any problems at night. So, contact us if you're in need of an outstanding 24 hour locksmith Boston. We can help you at any time.
Auto Locksmith Boston - Help In A Lockout
Have you ever needed an auto locksmith Boston during a lockout situation? If you've ever been in this situation, you must know how annoying it can be. In addition, not every auto locksmith Boston will help you with lockouts. Most Boston, MA, stores don't know how to do it. Therefore, calling Bursky Locksmith is the best option. Our auto locksmith Boston store is going to open your car in no time at all. In addition, your car won't get damaged. So, if you need help with a lockout, we're perfect for you.
Car Locksmith Boston - Key Stuck In Engine?
One problem with your car keys is when they're stuck in the engine. That might happen when you hire a lousy car locksmith Boston to make your keys. In addition, not every locksmith in Boston, MA, can help with a stuck key situation. Luckily, you can call our car locksmith Boston, Bursky Locksmith, for this job. We're the perfect car locksmith Boston store if you want to get your keys out of your engine. Trust us if you're ever having this problem and are unsure who you should call to solve it.
Best Locksmith In Boston, MA - We Offer The Best
Our professionals at Bursky Locksmith provide the best locksmith in Boston, MA service. If you are a resident of Boston, MA and you need the best locksmith in Boston, MA service, just give us a call and we will be there. We offer all kinds of the best locksmith in Boston, MA service. Our services include lock rekey, lock repair, lock replacement, and so on. We also offer key cutting, key duplication, lockout solutions, and lock maintenance services. If you need any of these services, just give us a call immediately.
Boston Locksmith Services - Give Us A Call Now
Getting Boston locksmith services becomes essential when you just move into a new apartment. We offer the best Boston locksmith services all over Boston, MA. We provide whatever locksmith service you need. If you just moved into a new apartment or you just got transferred to a new office, you must opt to change your locks to avoid security breaches. You can never tell who has your keys. To avoid burglary, our professionals at Bursky Locksmith will help you change your locks or rekey them without any hassle. Give us a call.
Affordable Boston Locksmith - We Will Help You Out
We offer affordable Boston locksmith services at Bursky Locksmith. We created the affordable Boston locksmith service to ensure that everyone in Boston, MA gets quality locksmith services irrespective of their budgets. Some people have decided to leave their malfunctioning locks unlocked because they thought getting a quality locksmith service was very expensive. We are here with the good news that we have an offer for all your budgets. Call us for all locksmith services such as key replacement, key cutting, lock replacement, lock repair, key duplication, all at a very affordable rate.
Expert Boston Locksmith - The Best In Town
At Bursky Locksmith, we offer expert Boston locksmith services everywhere in Boston, MA. You need expert Boston locksmith service for your home, office, and car, and that's why you need to contact us now. You don't want to put your home security into the hands of amateurs. You need expert services, and we are the people you can call. We will show up whenever you call to help you design the best home and office lock systems. We offer all kinds of locksmith services, including lock and key repair and lock and key replacement. 
Reliable Boston Locksmith - You Can Count On Us
You need a reliable Boston locksmith service that you can count on at anytime. At Bursky Locksmith, our reliable Boston locksmith service is second to none in the city of Boston, MA. Our professionals are always available to come to your location to help you at any time. One of the reasons you should choose us is that we have your interests at heart and are ready to help you secure your home and office with the best lock system on the market. We are available wherever you are and whenever you call. 
Master Boston Locksmith - Nothing But The Best
At Bursky Locksmith, we have a master Boston locksmith that will help you sort out all your lock issues. Our master Boston locksmith provides every top locksmith service that you need in your house. Our experts will work closely with you to give you the kind of lock and key that suits your building. Our top objective is to satisfy you and give you peace of mind over your properties. We offer commercial rekeying, commercial and residential door installation, master key installation and repair, keyless entry systems, lockout services, and 24-hour emergency solutions.
SERVING AREA WITH IN 20 MIN :
Company Name:
Bursky Locksmith
Description:
Bursky Locksmith Boston provides residential, commercial, automotive and emergency locksmith services in Boston, MA. Fast 24 hour locksmiths.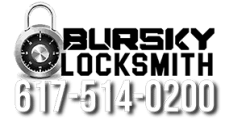 Phone:
(617) 514-0200
Prices:
$35 - $240